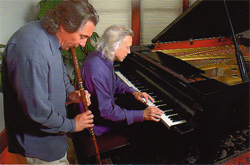 When I spoke with David Lanz and Gary Stroutsos on the phone for this interview, they were at Gary's home in Seattle on the patio having some coffee and enjoying the fresh air – and I felt like I was right there with them!

Being able to have both of these masters together to talk about their music and their passion was an incredible honor. In this interview, the duo discuss their musical backgrounds and talk about their new collaboration, "Spirit Romance". David and Gary were even kind enough to ship me advance tracks from the CD, and with permission from Narada records, Mystic Soundscapes presented the World Premiere of "Spirit Romance"!
OTHER SHOW FEATURES:
Show #002 also features our monthly Top Ten Track list, Music News from the world of Contemporary Instrumental music, a Contest Update, and the latest happenings on the Mystic Soundscapes website.
Podcast: Download (66.5MB)