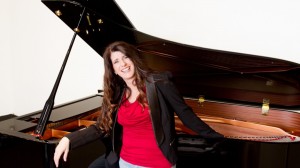 Kori Carothers' music is passionate, flowing, and extremely intoxicating. I continue to marvel at artists like Kori who create such amazing works filled with heart and soul! This was a fun, relaxing interview for both of us, and Kori was nice enough to take some time to talk with me about her music career, and also divulges details on her new project, "the journey", which was released shortly after this interview in October 2005. The show also features a track from "thejourney" called "walkingtall".
OTHER SHOW FEATURES:
Show #003 also features our monthly Top Ten Track list, details on how you can be a winner in our online MYST contest, a list of the winners in Mystic Soundscapes' Anniversary Contest, plus a sneak preview of what we've got in store for you this month.
Podcast: Download (38.8MB)