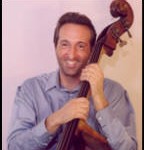 When I think of ambient/space music, music that almost instantly relaxes and whisks you away to other dimensions of space and time… I think Paul Avgerinos. Paul is a master, and it was an honor to be able to talk with him about his music, his career, and his latest CD GNOSIS. I gave Paul a chance to hear the interview before it went online, and here's his response:
I love the podcast ! ! !
You made me feel very comfortable and did an excellent job putting this together . It has a light, fun, informal feel . I really enjoyed listening 🙂 – Paul
FEATURED PODCAST:
Audiosyncracy
I've been a big fan of Jamey Osborne's AUDIOSYNCRACY podcast for quite a while, and decided it was time to have him on the show to talk about, well… HIS show! If you're looking for a podcast that features some truly amazing new age artists, check out this interview, then go subscribe to his podcast!
THIS EPISODE'S FEATURED TRACKS:
"Follow Your Bliss" by Paul Avgerinos
Two tracks from Paul's most recent release, GNOSIS. Visit Paul's website to hear more and purchase CD's.
"Mystic Voices" by satYa
Podcast: Download (82.8MB)