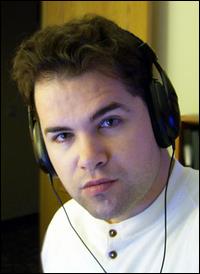 Salva Moreno is a talented composer from Spain who creates cinematic new age music under the moniker PSICODREAMICS. His latest CD, "Theatre des Vampires" is a lush soundscape of cinematic proportions that exposes us to the world of vampires, just in time for Halloween too! Due to time zone differences and Salva's desire to practice for this, his very first English-speaking interview, his answers to my questions have been pre-recorded. Enjoy!
THIS EPISODE'S FEATURED TRACKS:
"Sun Circle" by Ah*Nee*Mah
From Ah-Nee-Mah's latest CD, "Ancient Visions"
"Steaks and Garlics"
"Delicious Agony of Love" by Psicodreamics
From the new CD "Theatre des Vampires". More info and purchasing details on the Psicodreamics website.
Podcast: Download (65.4MB)