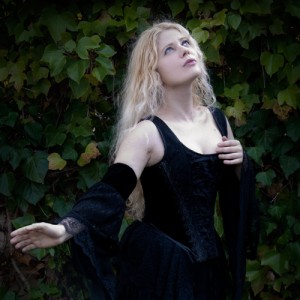 Priscilla Hernandez is a genuine soul whose talent and compassion can be felt deeply through her music. It's been a long time coming, but her debut CD "Ancient Shadows" is finally here, and can I just say, "WOW!" It's an immersive, spellbinding musical journey that will lift you high above the terrestrial plane and transport you into a mystical space, left to walk between the worlds of light and shadow. Priscilla's voice is no less than angelic, and so enchanting that I found myself completely lost in the music, listening over and over as she wove her magical web of "fantasy in the realms of twilight."
It's been a long journey for this singer, songwriter and composer from the Canary Islands, who decided to self-release her first album under the moniker of her own record label, Yidneth. "Ancient Shadows" is, in Priscilla's terms, "ethereal-goth" music, though as my friend Jamey Osborne of Audiosyncracy fame points out, that label doesn't really do the album justice. I agree. I think attempting to classify it into one genre demeans the project. This album is a work all its own, with quite a unique style, and one that I think will appeal to all listeners regardless of their "favorite" type of music.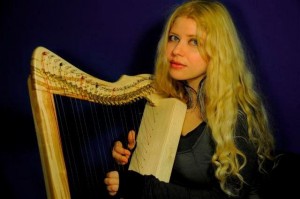 Each song on the album is a story in itself. For example "The Call of the Nymph" – a song inspired by a moment in which a dragonfly landed in Priscilla's hand and died. Priscilla's song lyrics are true poetry and would stand on their own even without the music. Several songs ended a bit abruptly for my taste, but this does not detract from the overall listening experience – it served only to make me yearn for more!
From a very young age, Priscilla found herself expressing her feelings through illustrations, and that creativity and talent is quite apparent on the CD package – the artwork is her own. From the CD itself to the two beautiful glossy booklets inside as well as the CD packaging, I was enthralled by the detail and passion that leaps from Priscilla's drawings as they illustrate her musical story.
Overall, this is an incredible debut by an independent artist who is definitely worth keeping an eye on. Priscilla and her co-conspirator, the equally talented Hector Corcin, should sit back with a "barraquito"* and be proud: they have created a lush, expansive, delicious work of art in "Ancient Shadows", and this first taste of Priscilla's music has left me wanting more. The only disappointment was that it wasn't a double-CD set! Enjoy the interview.
THIS EPISODE'S FEATURED TRACKS:
Priscilla Hernandez "The Call of the Nymph" from "ANCIENT SHADOWS"
Paul Schwartz "Christe Redemptor" From "State of Grace III"
Podcast: Download (101.1MB)