2007 has been an amazing year for music, and I'm wrapping it all up with a special all-music podcast showcasing some personal favorites as well as our listeners' top-rated tracks of the year from RADIO MYSTIC. And a little end-of-the-year surprise: just under TWO HOURS of music in a whopping two-parter! Don't say I never gave you anything.
You'll find the complete list of tracks with album covers and web links below. NOTE: The list is not in ranking order, neither are the tracks that are played in the show itself. This isn't a year-end countdown after all, but simply a compilation of some of the tracks that have really stood out during the past twelve months. Some tracks haven't even made it to album release yet, but are featured on the artists' Myspace pages, in which case I counted them in 2007. Hey – it's my show and I can do what I want, right? 🙂
Thanks to the artists and labels for their generosity in allowing us to podcast this music and share it with our dedicated listeners. I wish you all the best for a joyful, successful and enlightening 2008!
THE BEST OF 2007: PART ONE (Click here for Part Two)
BLUE STONE – SET ADRIFT
7 AND 5 – SLEEPWALKING
RADIUM88 – LET THERE BE LIGHT
JEFF OSTER – THIS PLACE
LORI CUNNINGHAM (NO ESCAPE) – RETURN
TIM MCGOWAN – LIGHT OF THE DRAGON
SOULWIRE – DRIFTING ESSENCE
LEMONCHILL – MISSING SOULS
PAUL HEINERMAN – CHIMENGU
ELU – WALKING THROUGH TIME
RICHARD SOUTHER – ABSENTIA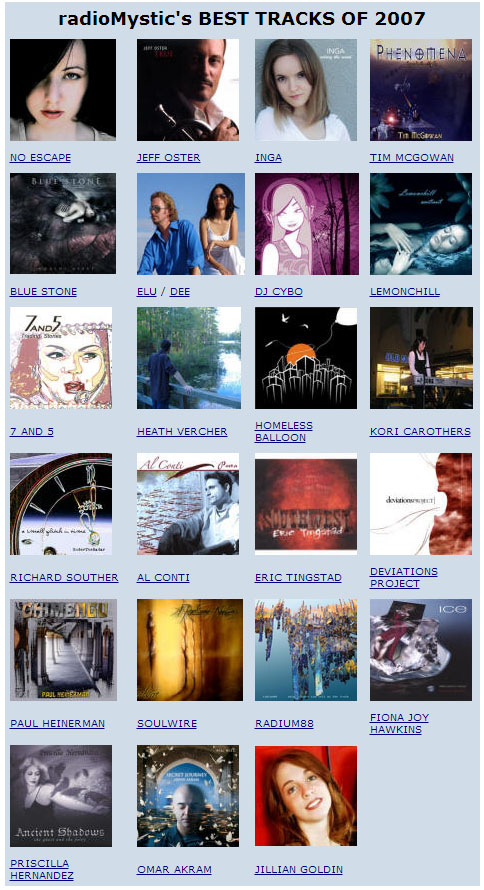 Podcast: Download (109.3MB)