We're back! I know you missed us – don't be like that. It's the Season Premiere of E*SCAPES – our first show in almost a year (yes, I received the "terse" emails, threats and demands for new episodes. And by the way – I don't think you can fit a microphone up where some of you suggested it go. Not cool!) We've got a whopping TWO-PARTER for ya today – Part One features music news and interviews – I also took the opportunity to record a segment live from the Albuquerque International Balloon Fiesta (between bites of cinnamon rolls and gulps of coffee). Part Two is an all-music segment featuring tracks from everybody you'll hear in today's show.
More on Part One: Our featured interviews are with KORI CAROTHERS, DAVID LANZ, TIM MCGOWAN, JILLIAN AVERSA, HEATH VERCHER, ELU's JEFF METTLING, PRISCILLA HERNANDEZ and JACE VEK (click the photos below to visit each artist online). WHAT a show this is gang – I know you're gonna enjoy it – all of these artists are good sports, especially for subjecting themselves to my own personal brand of tortuous humor(!) Be sure to listen for Jillian Aversa's EXCLUSIVE announcement about her brand new album, and also new album announcements from practically everyone else on the show today!
CLICK HERE TO LISTEN TO PART 2
It's also cool to note that E*SCAPES now has over 42,000 podcast subscribers under its belt – that's a lotta ears! Thanks so much for taking the time to download and listen to the show today folks. Now it's time to grab a beverage and enjoy our E*SCAPES Season Premiere!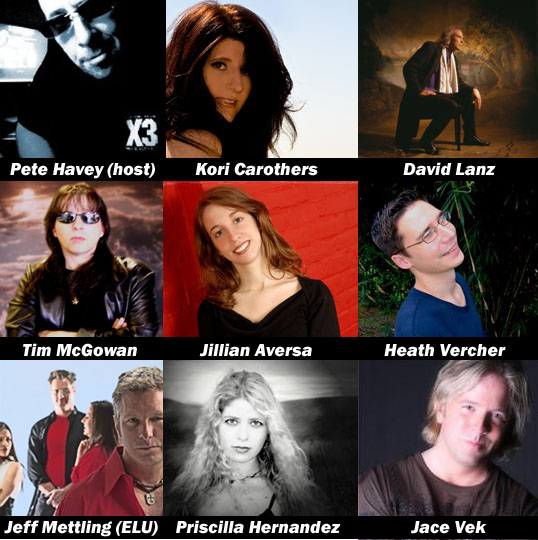 Podcast: Download (97.9MB)