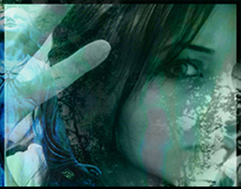 Episode 44 is hot 'n fresh gang! Today we're featuring an in-depth interview with electronic musician and artist CYBO – in fact it's her very first radio interview so I know you're gonna love this. Cyb has such a fantastic personality and a genuine love and gratitude towards all of her fans and listeners – it was awesome having her on the show! You'll hear bits like how she got into music, why she doesn't listen to terrestrial radio, details on her new album Echoespond, some juicy bits about her collaboration with Esper Fiction on 'Saegmeh', and you also get a full track from Echoespond to whet your appetite for the upcoming CD release. Also in the show the latest news from the world of ambient, electronic and atmospheric music, plus updates from the Radio Mystic Music Network as we roll towards the end of another year.
… and something extra for ya this time around – for those of you who'd rather get straight to the interview without all the extra fluff, just play the E*SCAPES Lite version above. Though I have to say missing out on the witty banter and extra bits would be kinda like eating the cake without the frosting hahaha!
More about Cybo: she's a New York-based artist who's blowing up the internet with her unique sound. Her music project began in 2004. She started experimenting by meshing her piano, guitar playing and pulsating vocals with distorted electronic drum beats and thick layered ambient pads. Her music gives off a sense of diversity/chaos/beauty/form of expression. Taking it even further and beyond the surreal ambient atmosphere already conveyed through her music, Cybo has created a new style that consists of a melodic ghostly type sound accompanied with hard filled gritty beats, overdriven guitar sounds and layered vocals breaching from afar. Taking subconscious thoughts and creating a visual of effects.
Born and raised in Brooklyn, Cybo describes her life living in the city diverse, chaotic and beautiful.
"…I've worked on this project alone from the start. I've always wanted to create a soundtrack of my life both musically and visually. My music constantly changes. My world is ethereal and my thoughts are obscure. But for the moments that I can sit down and create..I feel like I can breathe and I am limitless…and I would like to share that experience with you…"
"This is my life recorded in a dream…" Watch for Cyb's brand new album ECHOESPOND, due out in just weeks, as well as the new CD Saegmeh, her collaboration with musician Esper Fiction.
Also in the show, electronic/ambient artist ION performs 'The Silent Scream' – find him on Magnatune Records.
Podcast: Download (75.8MB)