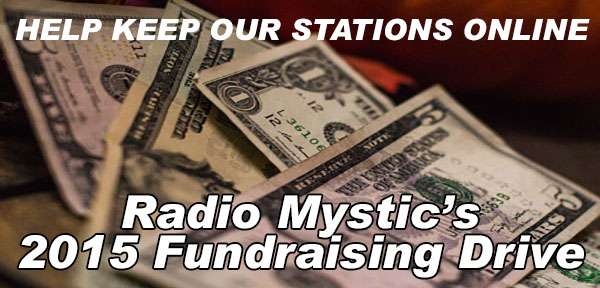 Well dammit. I was totally gonna forget about the whole fundraising thing this year, since I hate begging for money to keep these stations online. Used to be they paid for themselves through VIP listening hours (of which we get a small percentage) but last year that all changed and we had to do some last-minute fundraising in order to get the money we needed to pay our annual licensing fees to the gods who control the music distribution.
However … there've been quite a few emails and even some flaming dog poop on my doorstep by people who don't want to see our streaming stations take a back seat to our expanding focus on the podcasts. Many have begged me to take donations like we did last year at this time so that the stations can remain online for 2015.
Alrighty then. Here's your chance: starting today, you can make a donation in any amount to help keep Radio Mystic, Atmospheres and Winterscapes on the air through 2015. Just click here right now and shoot some cash through our Paypal account.
PLEASE NOTE: Last year several kind folks sent us GIFT CERTIFICATES for Live365 (our streaming provider). THESE CANNOT BE USED TOWARDS OUR ANNUAL FUNDING GOALS. In fact, gift certificates do us no good at all since we're already members of Live365. So, while we appreciate your generosity, please consider donating in the form of cash via our donate links in this post or on our website and social networks.
If you'd like to hear me talk in more detail on how the donations are used and why we need them, click the PLAY button at the top of this post for a short episode of the Radio Mystic Podcast.
Here are the specifics: we've got 58 days to raise $2,000. The deadline is December 31st. If we raise the money, it all goes to pay our annual fee for our streaming stations, and we'll be able to keep them humming along all the way through 2015.  If we don't meet the goal of $2,000, all of the money that HAS been donated will be refunded, and the stations will no longer broadcast as of Jan 1, 2015.
Keep in mind if the stations DO go away, RadioMystic.com will continue to release our podcasts and bring you new music through our website.
SO – there you go. If you enjoy what we offer and you'd like to be able to listen to these stations in 2015, please consider donating to the cause, and keep an eye on our home page for the weekly fundraising counter that'll be ticking away the days and counting up the cash.
Podcast: Download (10.9MB)