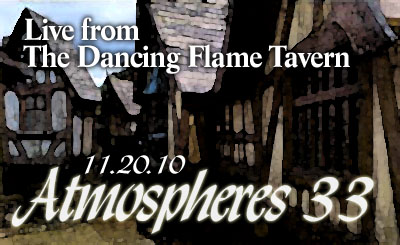 Tavern music live from the Dancing Flame Ain't nothin' like retiring to your favorite medieval tavern after a long hard day at work! Join us live from The Dancing Flame for a foot-stompin' ale-guzzlin' tankard-droppin' good time! Gonna be late? No worries – they'll leave the lamp on for ya.
Track listing:
GLASS HAMMER – Elrenn and Endereth
DAMH THE BARD – Pipes of Pan
GREAT BIG SEA – Eavesdroppers/Both Meat and Drink/Here We Go (Jigs)
IONA LEIGH – The Selkie
CAPTAIN BLACK JACK – Irish Stout
TIGERTAIL – Celtic Mystic
DUST RHINOS – Whiskey in the Jar
GLASS HAMMER– Dwarf and Orc
An extra nod and tip of the tankard to voice artist Anna Parker Naples who played our tavern maiden, and Glass Hammer and RPGNow for the additional sound effects used in portions of the show.
Sponsored by the Dancing Flame Tavern – click below to hear what you're missing!
Podcast: Download (26.9MB)