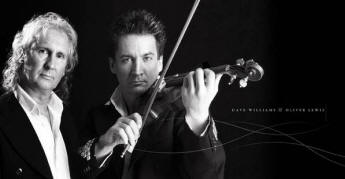 July 25, 2008
DEVIATIONS PROJECT is Composer/Producer Dave Williams and Violin Virtuoso Oliver Lewis.
Having "speaks" with composer Dave Williams last Fall was a lotta fun. Imagine my excitement getting to interview BOTH Dave and Violin Virtuoso Oliver Lewis this time around! These guys are a blast, and this powerful combination of skill and talent can take classical tracks such as "Flight of the Bumblebee", mash 'em up, and add some well-deserved spice and energy to create something completely wild and totally fresh.
Oliver and Dave discuss their careers, how they first met ("we got along like a house on fire!") and their brand new release THE IVORY BOW, available everywhere August 5th. Grab a cup of strong coffee (or some ROCKET FUEL if you can find any!) and treat yourself to this interview!
FEATURED MUSIC TRACKS:
Deviations Project, "Big Bad Bumble"
from The Ivory Bow, Neurodisc Records
Big Ben, "Flare"
Podcast: Download (71.2MB)