We're celebrating the 10th anniversary of the Radio Mystic website with a new layout, a new focus, and the return of some "oldie but goodie" episodes of one of our original podcasts!
Beginning this month, the Radio Mystic website will focus more and more on our podcast offerings, which currently consist of one: the X3 Ambient/Electronic show, which is also available on iTunes (you'll notice that the Atmospheres new age podcast has been retired, though you can still download and listen to the archives here on the website in our Podcasts section). Of course, being the Type-A person that I am, I've already got plans in the works for several podcasts to add to our lineup!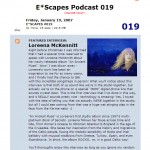 Also returning (in the form of archives) are old episodes of our original podcast, E*SCAPES, which featured artist interviews and music. I'll be working on getting the old episodes loaded and online over the next several months, so keep an eye out for them if you're interested.
Our streaming stations are all available from our main menu as well, and I've added a bit of history on each station's origins for the archivists out there (like me!) – hope you enjoy it.
I'm still playing around with the website design and layout, but the main goal here is to be able to serve up new podcast content on a monthly basis, and also provide a space where we can feature new artists and music in the ambient/electronic genres – provided I have the time. On a personal level, I'm taking advantage of several new opportunities in both the voiceover and internet consulting industries that I can't pass up, which is why Radio Mystic will be solely focused on our podcast content by the end of the year.
In the meantime, please enjoy the content that you can find here, and watch for new goodies to appear randomly as I find the time to get it all loaded. Thanks for checking us out!