Over ten years on the air. Time flies when you're having fun! We promised some free music for our listeners after hitting 1,000 Facebook fans and it's turned into a big ol' celebration of our ten year anniversary – so here we go: over 30 tracks of incredible ambient, downtempo, new age and instrumental music available RIGHT NOW in our very first compilation album. We call it "Ethereality" and it's available for a limited time ABSOLUTELY FREE. No strings (well, ok, you gotta give us your email address but we promise never to abuse that privilege, and it's for a great purpose which we'll reveal early next year, so there).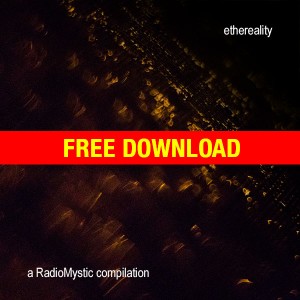 You'll want to click on the album cover to the left, or here, right now and grab your free album while it lasts. Downloads are available from Nov. 10 through Nov. 19, 2014. After that, it's a piece of history gang! So don't miss this. THIS ALBUM DOWNLOAD IS NO LONGER AVAILABLE.
Back yet? Now that you've gotten your music, check out the entire roster of amazing musicians whose work you'll hear on this album – track info and details are all listed below.
THANK YOU to our fans and listeners for a fantastic 10-year ride – and special thanks to all of the artists and labels on this page who've so generously donated their tracks for this unique album celebration.
Enjoy the music!
"ETHEREALITY" FEATURED ARTISTS AND TRACKS:
TOR LUNDVALL, "Orange Leaves"
http://torlundvall.com
Melancholy, ghostly, contemplative and deeply introspective is how we describe Tor's music. Tor is an amazing composer of ambient soundscapes as well as a gifted painter. Dais Records describes him in better words: "Tor Lundvall has been quietly blazing the trail in the realm of serene ambient composition for almost 20 years, and has stood alone as being one of the most consistent and hauntingly beautiful musicians the world has ever seen. Lundvall's unique artwork carefully illustrates the airy dreamworld to which his signature "ghost ambient" sounds give soundtrack to, perfect for a quiet night stroll through an autumn forest." "Orange Leaves" is an unreleased out-take from Tor's upcoming album "Rain Studies", currently in progress.
GARY MULFORD, "Distant Anomalies"
http://www.cdbaby.com/cd/garymulford
We've been playing Gary's music since our stations began. "Streamline Ambient" is where he started – and now records under his real name. Gary's latest album "Distant Anomalies" features lush keyboards and flowing melodies that make a great addition to any ambient/downtempo fan's collection.
GRAINS OF SOUND, "Ultraviolet"
http://grainsofsound.net
Grains of Sound is the ambient-psy-trance project from brothers Chris (Exeris) & Jason Sevanick, who gained notoriety with their industrial electronic act, Mindless Faith. Their double-disc debut album "Rays of Life" and 3-disc follow-up "Sine Language" have spawned tracks that are consistently in the top rated songs on Radio Mystic. Dance, chill, or zone, this three disc set has you covered!
CRAIG SKALA, "Moon"
http://www.cskala.ca/
Craig Skala is a Toronto area based guitar player who's played with some of Toronto's most notable bands, as well as performing for numerous T.V. shows, films and albums working with producers and composers such as Chris Dedrick , Angelo Oddi and Terry Brown. Craig's music has been a staple on Radio Mystic for many years.
AES DANA, "Onyx"
http://www.ultimae.com/en/composers/aes-dana/
AES DANA is sound designer and composer Vincent Villuis, one of the founding members of the band ASURA and electronic DJ/co-owner of Ultimae Records. So far he has produced 5 solo albums, participated in about 3 dozen compilations and collaborated on three albums with Swedish artist Magnus Birgersson under the moniker H.UV.A.NETWORK. He is also the artistic director of the Fahrenheit Project series on Ultimae Records. His latest album, POLLEN, is now available at http://www.ultimae.com/en/releases/aes-dana-pollen/index.html
AMETHYSTIUM, "Nightfall"
http://amethystium.com/
Amethystium is an incredible mix of ambient electronica, world and neoclassical darkwave music created by Norwegian composer and producer Øystein Ramfjord.The latest album, Transience, was released in March 2014 and brings together moody and melodic electronica with subtle vocals, strings and Norwegian folk music instrumentation.
CRYSTALLINE DREAM, "Shadowlands"
http://thresholdstudios.info/crystalline-dream/
The Crystalline Dream project is a series of 5 albums telling a musical story of a personal journey, discovery, growth, and perhaps of what's to come, creating a musical "arc-en-ciel". It is associated with divine wisdom, spirit, oneness with the universe, and unity with all that is, and ultimately enlightenment.
DAVID LANZ & KRISTIN AMARIE, "All Is Calm"
http://davidlanz.com
http://amariemusic.com/
Grammy-nominated pianist David Lanz is one of the pioneers of new age music. He's a top instrumental recording and concert artist who gained worldwide renown with his number one Billboard hit 'Cristofori's Dream.'
Vocalist and composer Kristin Amarie is well-known for her lush vocal incantations and dreamy music compositions. David and Kristin have graciously provided an unreleased track from an upcoming project for inclusion on this compilation, called "All Is Calm."
CIRCULAR, "3 Moons"
http://www.circular.no/
Circular is the ambient duo Bjarte Andreassen and Jostein Dahl Gjelsvik from Norway. Being among the artists to influence the sound that was to be known as arctic ambient, Circular kept developing and exploring a wider sound palette. References to the stark beauty of the wide open nature is still clear, combined with a warmer involving cinematic trait.
DIANE ARKENSTONE, "The Elektrik Sky"
http://www.dianearkenstone.com/
Diane's musical compositions envelop a wide range of styles, from Celtic, Native American and world music to electronic, techno, trance, rock and folk. It's safe to say Diane doesn't shy away from any musical challenge! you can hear much of her more ambient/new age works on our streaming internet stations. This track is from her album "Jewel in the Sun."
ELU, "Embrace"
http://www.elumusic.com/
ELU is a unique mix of new age, electronic, pop and world music created by award-winning composer and producer Jeffrey Mettling. This track is a preview from ELU's upcoming album release.
IAWAKE, "Awakening"
http://www.ultimae.com/en/composers/i-awake/index.html
Neo-ambient producer Thomas Huttenlocher aka I Awake crafts his way through astral soundscapes and parallell lives, blending styles and flavors in search of the very moment. Combining celestial emotions, tribal rhythms and an ever present sense of adventure, his music compositions are known for their rich textures and lush soundscapes. "Awakening" comes from the Ultimae Records album "Tierra".
LLEWELLYN, "The Piper"
http://www.llewellynandjuliana.com/
With over 1.5 million album sales worldwide Llewellyn and his partner Juliana have become one of the most popular 'new age' relaxation artists of our time. Over the past 20 years they have built up an impressive catalogue of many album titles. "The Piper" is from his album "Ghosts", on Paradise Music. "From my own collection of books and clippings, I have embarked on my most ambitious music project ever, to produce an album based on several of my favourite true Ghost stories." Llewellyn
INGA with TIGERFOREST, "Let's Have Fun"
http://ingahope.com/
Latvian-born vocalist and composer Inga Hope creates beautiful, soulful music that's been a favorite of our listeners for years. Inga delves into not only new age, but ambient and trance grooves as well, and currently teaches guitar in New Zealand. She's been kind enough to provide this latest track – a collaboration with Tigerforest – for inclusion in our compilation.
JACOB ARCHER, "Distant Dream"
http://www.jacobarchermusic.com/
Having worked with acts such as Menudo, Christina Aguilera and Queen Latifah, Jacob composes his own brand of instrumental music that's made a name for itself. He can be heard on The Weather Channel, and his album releases have garnered legions of fans around the globe. Jacob performs "Distant Dream" from his album "Pillars of Creation" for our compilation.
JEFF OSTER, "53 Mirrors"
http://jeffoster.com/
As one of the few trumpet/flugelhorn artists working in ambient terrain, Jeff Oster draws from a rich background of classically trained, jazz tinged horn study, mixed with contemporary electronica and loop based electro-orchestral bed tracks. "53 Mirrors" is from Jeff's album, Surrender.
LARS LEONHARD, "Burning Clouds"
http://www.ultimae.com/en/composers/lars-leonhard/index.html
Lars' strong liking for electronic music has led him to explore the realms of ambient, dub-techno and deep-house. The American Space Agency NASA spotted Lars in 2013 on Youtube and is currently illustrating its scientific explorations videos with his compositions. "Burning Clouds" is a track from Lars' EP of the same name on Ultimae Records.
PETER EDWARDS AMBIENT, "p.CTC"
https://peteredwards.bandcamp.com/track/p-ctc
Peter Edwards is a sound designer, producer and ambient composer based in Albuquerque, NM USA. His compositions combine minimalist ambient drones and melodies, oftentimes enhanced using modified sound effects from his library of personal field recordings. "pCTC" is a preview track from his new album, due for release in 2015.
LYNDSIE ALGUIRE, "Memories (of Places They've Been)
http://trembl.ca/lyndsie/albums
Lyndsie Alguire is a Canadian musician and audio engineer based in Montreal. Her work combines acoustic elements with surreal electronics.
MAX MILLION, "Skying"
http://maxmillionmusic.com/
Often described as unlabeled, Max's music explores a quite unique symbiosis of melodic acoustic & electronic sounds, atmospheric soundscapes, set to the backdrop of downtempo rhythms & sprinkled with optimism filtered melancholy. "Skying" is from the album "Passages" on Ultimae Records.
NELSON ORTIZ, "REM Sleep"
http://www.nelsonortizmusic.com/
Lush strings, haunting flutes, and sonic atmospheres are Nelson's specialty. He's a composer and producer whose work exemplifies new age excellence. This track is from Nelson's album "I Must Be Dreaming".
ORENDA BLU, "Jay Ambe"
http://orendablu.com/music/
The angelic vocal tapestries of Emily Tessmer of Orenda Blu Music are fragrant with echoes of the divine. Weaving pop melodies, world instrumentation and chanting from indigenous cultures, Emily creates a universe of emotion and feel while gently caressing the listener with her soothing voice. One of two tracks featured on our compilation from the Paradise Music label, Orenda Blu performs "Jay Ambe".
PHILLIP WILKERSON, "And Lilac Too"
http://phillipwilkerson.com/
Phillip Wilkerson is an ambient musician whose work focuses on contemplative atmospheres, harmonic drones, and amorphous soundfields. "And Lilac Too" is based on a lyric from a Jimi Hendrix song.
JILLIAN AVERSA, "Aletheia"
http://jillianaversa.com
Jillian Aversa is an award-winning vocalist, songwriter, and performer whose shimmering voice has appeared in a medley of projects – from video games and hit dance singles to her original albums. Her ethereal vocals can be heard in game franchises HALO, GOD OF WAR, CIVILIZATION, and SOULCALIBUR V – and touring as a soloist with VIDEO GAMES LIVE, she is an international sensation in her own right. "Aletheia" is a track from Jill's latest album "Atlantis Awakening".
PRISCILLA HERNANDEZ, "Through the Long Way"
http://priscillahernandez.com/
Priscilla is a composer, singer-songwriter and multi-instrumentalist from the Canary Islands, currently based in Barcelona. Priscilla's music has been classified as "ethereal gothic" and features cinematic soundcapes paired with angelic vocals and contemplative vocals. This track is from 'The Underliving".
SOULWIRE (KEN HILL), "Dreamforged"
http://ruvidan.wix.com/kenhill
Ken Hill is a fire dancer, music composer, poet and martial artist. While the firece display of fire dancing is the yang side to his life, music composition balances out the yin side. Ken performs chill out/cinematic music under the name of Soulwire. His music can be heard in several yoga studios, massage, pilates classes, OM Times Magazine, Humanity Healing Videos and also on the cable TV series called "Departures". His music is best described as a musical journal translated into music notes. "Dreamforged" is a track Ken composed for one of his popular fire dance routines.
AL CONTI, "Veil of Mist"
http://alconti.net
Al Conti is a GRAMMY® nominated composer, arranger, producer and multi-instrumentalist. His album "Northern Seas" garnered a GRAMMY® nomination, made Amazon's Top 10 list for Best New Age Albums of 2010 and reached #2 in the ZMR Top 100 chart for October 2010. "Veil of Mist" is featured on that album.
STEPHEN PEPPOS, "The Essence Of"
http://www.stephenpeppos.com/
Composer, producer and engineer, Stephen Peppos' music has been heard around the globe, from popular TV series' to jingles and music libraries. Stephen is well-known for his work in the new age and contemporary instrumental genres. "The Essence Of" is featured on Stephen's latest album, "Still".
TIGERFOREST, "Passage Of Movements"
http://www.tigerforest-music.com/
Inspired by nature's deepest mysteries, Gunnar Spardel (Tigerforest) creates visionary sounds which mix lush instrumentation and thick-layered synthesizers for a sound that lies somewhere between '80s dream pop and modern electronica. Gunnar joins the compilation with a previously unreleased track, "Passage Of Movements".
PSICODREAMICS, "Azhdark Passion (Fantasynth Version)"
http://psicodreamics.blogspot.com/
Psicodreamics is the ambient music project that reveals the unique magic, mysterious and idyllic world of musical art of Spanish composer Salva Moreno. A great part of his music world is inspired by mythology and fantasy creating a rich sanctuary of haunting and mysterious fairyworld sound, covering many genres, mainly ambient, new age, goth and chillout.
TIM MCGOWAN, "The Long Journey Home"
http://mcmusicinternational.com
Tim McGowan's instrumental music is a unique blend of heart warming, thought provoking melodies woven tightly through a lush soundscape that pulls you deep into the personal inner journey that lies ahead. "The Long Journey Home" is featured on the album "Kingdom".
7AND5, "Passing Storms"
http://7and5music.com
7and5 is one of the pioneers of the "new chill" movement. It's mastermind is John Nixon, who expands upon the traditional "new age" sound with more diverse textures and rhythms. 7and5's latest album is "Themes for a Grey Day", and "Passing Storms" is one of the tracks featured on that album.
KORI CAROTHERS, "Tidal Rift"
http://koritunes.com
Kori creates instrumental music that infuses electronic and acoustic sounds. Her main instrument, the piano, speaks with clarity, and she also moves effortlessly to the keyboards as well as Native American flute. When Words Are Not Enough….listen to Kori's music and you can feel what she's saying. "Tidal Rift" is a track from Kori's upcoming release, "Fire in the Rainstorm", due out in 2015.
Podcast: Download (13.2MB)