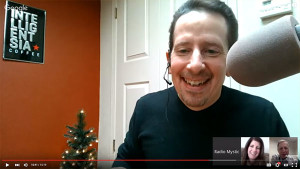 In episode 60 of the Radio Mystic Podcast you heard (or watched) us break the big news about adding two NEW internet radio stations to the Radio Mystic Network in 2016!
First up, Jamey Osborne's AUDIOSYNCRACY will be debuting as a 24/7 streaming station in January. Jamey's been running the Audiosyncracy radio show and podcast for 16 years – it started on KTEP El Paso as a weekly show, and the podcast followed soon after. We're really excited to team up with him in bringing his unique mix of acoustic and multi-instrumental music to our lineup.
Later on in the year, KORI CAROTHERS (whom you know and hear on our podcasts and stations as a talented composer and musician) enters the world of broadcasting with her new station, PEACE IN MUSIC. She'll be featuring contemporary instrumental music as well as interviews with broadcasters, artists and others in the music industry.
Our OWN lineup of streaming stations – Radio Mystic, Atmospheres & Winterscapes – for those of you who've been paying attention, will continue broadcasting into the foreseeable future thanks to our new collaboration with Jamey and Kori. Yes, I know, 'tis good news all around!
Watch for the new stations on our "RADIO" tab beginning in January, and get ready for lotsa cool happenings: music giveaways, video conferences with our artists AND listeners, tons of new music and more!
For the complete details, you can also watch the video interview from Google Hangouts on our Youtube channel, or just click below to watch it right here.